Let's be open!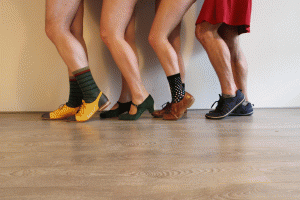 We want to be open about our organisation, as we feel you have the right to know many things that are usually kept hidden. On this page you can hopefully find all the answers to the questions you may have about how we organise this camp. Including: how we make the preliminary schedule of the private classes, how we have tried to improve compared to last year, and how we spend our money. Meet the Ceuvel Swing Camp crew with their trousers down! Feel we missed anything? Send us an email with your questions!
What's all that inclusivity and caring stuff you try to create? How?
(Not so) secretly, Ceuvel Swing Camp is organised by a bunch of people trying to change the (lindy) world. We want everyone–independent of background or preferences–to feel comfortable, welcome and safe at our camp.
Have ideas on how we could make our camp environment more welcoming to all? Let us know!
No toleration for any form of harassment or discrimination (be it racist, sexist, ableist, homophobic, transphobic or otherwise). Please check the code of conduct in our camp booklet for more info about this.
A varied price system for the full passes. Depending on whether you feel more or less economically comfortable, you can decide to pay the standard price, or €15 more or less.
A care team, being available night and day for all the questions you may have that you feel should be treated with care. Of course you can also always address any of the crew members, but they may also have other organisation stuff they need to do.
Explicit attention to learning both dance roles and switching, e.g., in two group classes, our Mix and Switch competition and on the t-shirts we will sell. We feel that you should be able to easily dance in the dance role that you prefer (for (half) a song, an evening, or the whole weekend) independent of social expectations, e.g., because of your gender.
We will serve vegan food, to make sure that people with these (fantastic environmentally conscious) food preferences do not feel like an outsider. Also, eating vegan has less of an impact on the environment, as we try to be environmentally conscious.
We like dressing up, and we like it if you happen to like this too, but we do not expect you to wear a certain kind of clothes at our camp. Above all, we strongly encourage you to wear whatever you feel comfortable with. And yes, this includes hair on women's legs and a skirt around a guy's butt.
We promote gender neutrality. For example, we actively decouple dancing roles (lead and follow) from the gender or sex of the dancer through speech and acts, and we have gender-neutral toilets.
At our camp we don't expect you to be happy or energetic all the time. We invite you to respect your own boundaries and give yourself the self-care you need. We hope to facilitate some of this, for example through our care team that is always available for a chat, and by marking some spaces around the Ceuvel where you could have a silent moment for yourself (see program booklet).
The crew of Ceuvel Swing Camp actively invested work into trying to find other ways to make equality-seeking groups feel more welcome at our camp. As a result of this, more small changes will be made this year. For example, our LGBTQ+ identifying or supporting crew members will be proudly visible, and we will try to set a good example by adequately using people's pronouns. Do you have more suggestions? Let us know!
How do you try to be environmentally friendly?
We genuinely try to organise the camp in a way that it has as little impact on the environment as possible. On the one hand we focus on the big polluters such as flying and eating meat, and on the other hand we try to go a step further with the small stuff compared to many other festivals. For example, we use second hand (real) plates and cutlery instead of merely switching from plastic to paper disposable plates. Here's a list of how we try to be environmentally conscious:
We eat vegan. All the meals we provide are vegan, and we introduced vegan milk to the bar in our venue so you can even make your cappuccino vegan.
We choose teachers, bands and photographer close by, so we need fewer flights.
We encourage people to offset their flight or other transport, and we offset the travels of all teachers and crew by donating to Trees For All.
We organise our festival at and around the Ceuvel, a hub for green people valuing and promoting sustainability. We will enjoy their solar power, drink their organic and local beers, and support their endeavours.
We walk/cycle as much as we can during and in preparation of the camp – even for our grocery shopping and the transport of teachers in Amsterdam.
We avoid wasting food, using plastic, and printing stuff as much as possible.
We use recycled materials (e.g. homemade flag lines from our old clothes, and wooden signs from our old garden fence) and second hand stuff (e.g. plates).
What did you do with the feedback from last year? How have you tried to improve this year?
Here is a list of the most important and biggest improvements we've made for the 2018 event, and that we will keep in 2019:
We will serve a wide variety of (vegan) food, and make sure salt and pepper are available so people can adjust this themselves.
We keep our new system for scheduling the private classes. Here we make the preliminary schedule (according to the preferences you give us when registering for a full pass), and you can optimise it on Friday evening.
Here's a list of new improvements for 2019 (based on your (and our own) feedback in 2018):
We'll make sure that there is plenty of (free) drinking water available. Also, we will inform the people behind the bar about the expected peak hours of the weekend, so there is extra help, e.g., right after classes stopped.
We'll not plan a guided practice session at the same time as a open thematic group class, to avoid the overflowing of the group class.
We'll make more clear where all the toilets are. Unfortunately there are still only two toilets in our main class venues. We will improvise some space to change clothes so the toilets are not occupied by that.
We'll make more clear what can be expected of our different group classes, especially the thematic ones, so you can choose your classes wisely.
And some other changes (independent of your feedback):
We added an extra day of Ceuvel Swing Camp: a Blue Monday after-party!
No need to choose between dancing roles! You can choose whether you want both lindy hop classes following, both leading, or one following and one leading. During the thematic classes, your private class and the parties you can choose yourself as well!
How do you decide who gets which private class?
We want to schedule the classes as fairly as possible, while still getting a result that meets all of your preferences as best as possible. Fairness for us means that we will not make secret choices behind your back, and treat everyone's wishes with equal importance. We will simply try to optimise the schedule with the preferences that you've given us (meaning that we try to give as many people possible their preferred choice of teacher and time slot). However, for this we need to make some choices about what we will guarantee to you, and what we will really really try to give you:
If you volunteer at our camp, we

will make sure

that your private class is not during your volunteer shift. (Please also, if you want to switch time slots with someone else on Friday evening, make sure that your new time also doesn't interfere with your volunteer shift!)
If you want to take a semi-private class with two or more people

and

all of you want the

same

teacher, then we will

try

to schedule one long slot for all of you (rather then several 30-minute slots).
If you want to take a semi-private class with two or more people

and

all of you filled in

different

teachers as a preference on registration, we'll

make sure

that you'll have a break between your classes. We will also of course

make sure

that these separate private classes do not take place at the same time.
If you filled in other preferences in answer to the "Is there anything else we should know when scheduling your private class?"-questions, then whether we will try to fulfil your wish depends on how reasonable we think this is. This is a bit vague, so here are some examples. We will

not

take it into account if you tell us again which teacher you really really like. We will also

not

take it into account if you tell us that you really really like us and are coming from Belgium with fantastic chocolate. But of course, if you have a wedding planned on Saturday early morning (but can attend the rest of the weekend), then we will really

try to

work around this.
We will give the preferences of dancers who have been dancing for over three years priority over those of dancers who have been dancing for less than 1,5 year, as we feel that they may benefit more from a private class of their preferred teacher.
We will not make any more choices for you besides the above mentioned. This means that we will not favour our incrowd. We will try to find a schedule that meets as many people's preferences as possible, but of course we cannot guarantee that you get your favorite teacher or spot in the schedule. If your preference is popular, we will allocate preferences on a first come first serve base—so register soon!
Also note, we will make the schedule three weeks before the camp. If you take over a full pass from someone else after this, then we will not take your preferences into account (and you'll get the private class of the person you bought the full pass from).
How do you spend your money? Do you make a profit?
Below you can find the amount we plan on spending to make Ceuvel Swing Camp 2020 really awesome. As we are not sure whether the venues we book and the teachers, band and photographer we hire are as fond of complete transparency as we are, some amounts are a bit vague to honour the privacy of the individuals included.
As you can see below, this year we expect a small profit of approximately € 271 We'll keep this on Ceuvel Swing Camp's bank account until we find something cool to spend it on, like next year's event.
| Cost description | Price ex. VAT |
| --- | --- |
| Venues, dancefloor, equipment | €4980 |
| Teachers, photographer DJs, bands | €11210 |
| Travel costs teachers, bike rental | €1300 |
| Crew compensation | €2000 |
| Food for teachers and participants | €4610 |
| Drinks teachers and crew | €350 |
| Groceries and small stuff | €275 |
| Unforeseen | €1000 |
| | |
| Total | €25725 |
---
| Income description | Amount | Unit price inc. VAT | Price ex. VAT |
| --- | --- | --- | --- |
| Full passes | | | |
| Discounted | 10 | €170 | €1405 |
| Normal | 95 | €185 | €14525 |
| Increased | 10 | €200 | €1653 |
| Party passes | | | |
| Discounted | 5 | €55 | €227 |
| Normal | 15 | €60 | €744 |
| Increased | 5 | €65 | €269 |
| | | | |
| All meals pass | 70 | €62 | €3982 |
| Rock Solid Funding | | | €2200 |
| | | | |
| Door tickets | | | |
| Thu/Mon | 40 | €5 | €165 |
| Fri/Sat/Sun | 50 | €20 | €826 |
| | | | |
| Total | | | €25996 |